Sungai Way old folks receive ang pow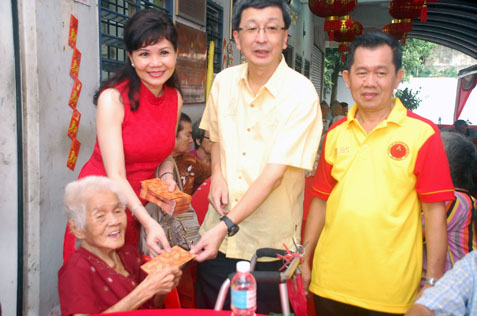 The festive spirit of Chinese New Year has brought smiling faces to some 60 elderly folks of Rumah Sejahtera Seri Setia (formerly Sungai Way Old Folks Home) in Sungai Way New Village, Pealing Jaya.
During the Chinese New Year season, the residents of the home received a steady stream of visitors who wished them well and handed out ang pow (red packets) and mandarin oranges to them.
They were even treated to a Chinese New Year grand luncheon at the home during the Majlis Gong Xi Fa Cai Bersama Rumah Orang-Orang Tua Seri Setia celebrations on Jan 26, 2014 which was co-hosted by property developer LBS Bina Group and Council of Justices of the Peace Selangor.
Rumah Sejahtera Seri Setia assistant secretary Tee Yoon Ming said such visits and treats brought the festive cheer of Chinese New Year to the elderly who felt appreciated and cared.