Penangites walk for peace and solidarity amid rising religious tensions
Pedestrians and motorists were caught by surprise to see about 60 people from various races and ages, walking along the 'Street of Harmony'  with purple balloons and holding carnations and roses on 16 February.
The event called 'A walk in the park' was led by organisers, Azrul Mohd Khalib from Kuala Lumpur together with Jenny Liew and Aida Redza from Penang, who are from the movement 'Malaysians for Malaysia',
According to Azrul, the objective of organsing the walk  was to show that Malaysians are standing up for each other in the wake of increasing religious and racial tensions.
Earlier, on 26 January, he had organized one in KLCC park in Kuala Lumpur and he later had the idea to to organize at least one walk in every state in Malaysia, where the organizers would be the locals. He picked on Penang to be the next venue after Kuala Lumpur since Aida Redza and Jenny Liew who are from Penang, responded to his call and took up the initiative to organize the event.
"We want to show that we are Malaysians who are concerned for each other." he said. "We are  standing up against groups like Perkasa and Islamist group Ikatan Muslimin Malaysia (Isma) who promote prejudice and racism. We, from various different background are here to reject all forms of violence, aggression and bigotry"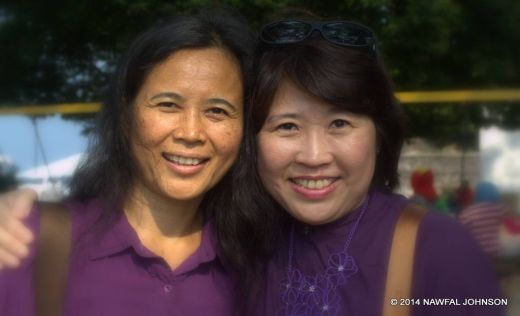 The event, which began at the Esplanade at 5.00pm, saw the singing of two songs, 'Kita bangsa Malaysia' and 'Rasa Sayang' at the space near to the playground.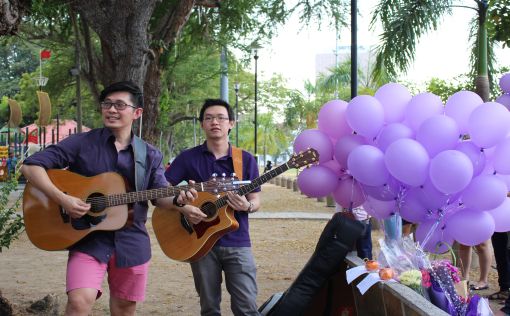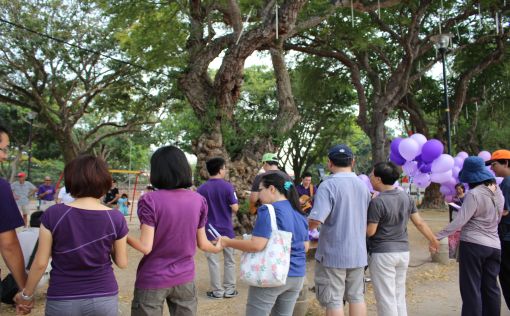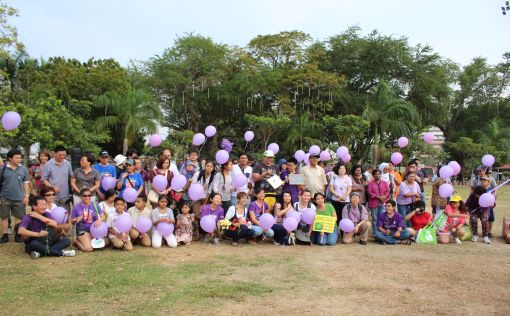 The group, most of them dressed in purple, the colour of religious tolerance, armed with purple balloons, roses, carnations and oranges, then proceeded to walk to the St Georges' Church in Lebuh Farquhar.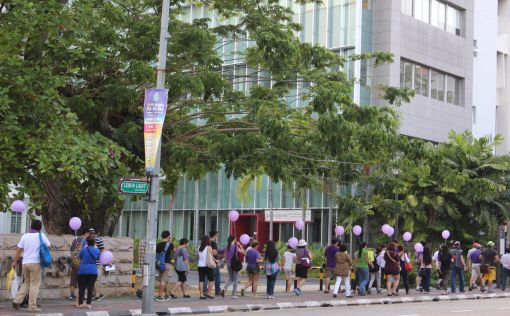 Diocese of West Malaysia Upper North Archdeaconry vicar Venerable Charles Samuel, with a few of his church members, were on hand to greet the group.  On behalf of the group, the organizers presented a bouquet of flowers to him and he gave a short speech, praising the group for bringing forth the love of God in this  show of unity and solidarity walk.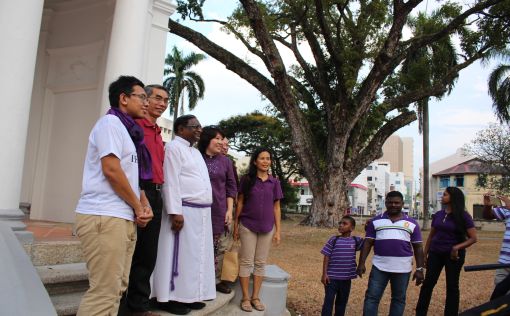 "On behalf of the Christian community here, I convey my  gratitude to you all for this great expression of brotherhood/sisterhood.  Just like where our bodies are made of different parts and all parts need to function well to keep our body going, it is the same as all races and faith. We may be different in our beliefs but somehow or other we need each other to survive."
He also said that we may get angry at times but it is important that we do not let the anger cause us to sin. He advised the people to keep the 'devil' away and avoid any form of slander and malice; instead live lives with pure hearts – a heart filled with love, compassion and kindness.
"We are all called  to live  our lives with humility too and let us make an effort to keep the bond of love and peace among each other." he said.
Some church members were around to present stalks of carnations to the walkers and even  provided drinking water.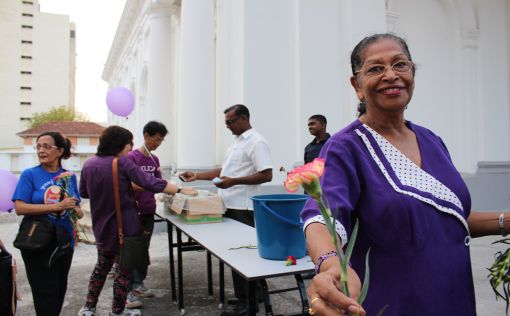 Venerable Charles then joined the group on their way to the other places of worship.
Just round the corner, about 200 metres away, they stopped at the Goddess of Mercy temple. The organizers presented a bouquet of flowers to a temple committee member.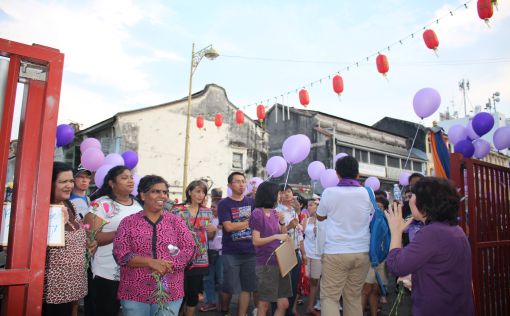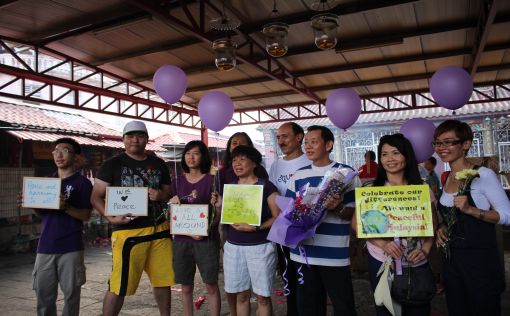 After the visit to the Taoist temple, the group stopped at the Sri Mahamariamman Temple in Lebuh Queen. The temple management committee chairman S.Varatharajoo, was on hand to welcome them. Again, a bouquet of flowers was presented to him.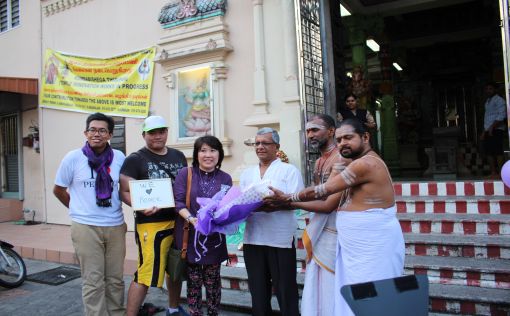 The group continue walking, this time to their final stop, the Masjid Jamek at Lebuh Aceh. All along on their way, they handed balloons or carnations to curious passer-by, at the same time explaining to them the purpose of the walk. Even motorists who stopped for them to cross the road, received flowers or oranges. A walker was seen handing a carnation to two police-men in a police car.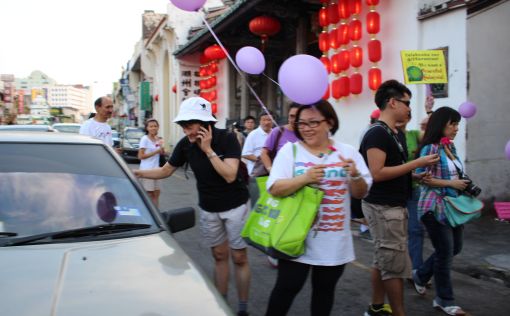 When the group reached Masjid Jamek, on behalf of the group, Venerable Samuel handed a bouquet of flowers to  the Badan Warisan Masjid Melayu chairman and mosque committee member Mohamed Yahaya.
Mohamed Yahaya was glad to see the group and remarked that the walk was a good way to foster peace and harmony among Malaysians in this time of tensions.
"Nowadays, times have changed. The young people do not mix around much, unlike my time, when everyone in the community knew each other well as we dialogue with each other and understand each other." he said.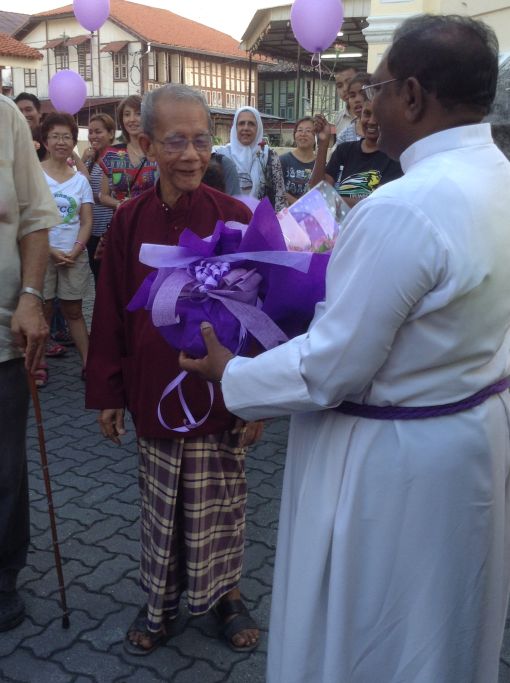 Young people nowadays keep to themselves which gives rise to suspicion and misunderstanding.  We cannot live our lives by being suspicious of one another. We need people to come together to understand each other."
"This is a very good idea to foster peace and harmony amongst Malaysians as times have changed, many young people do not mingle enough, not like in my time, this is why there is so much anger and misunderstanding," Mohamed said of the walk.
He said that in previous days, everyone in a community knew each other as they mixed around, talked to and understood each other, whereas nowadays most young people like to keep to themselves and this will give rise to misunderstanding.
"What we need is for people to be around people for them to understand each other," he said.
A young couple, Farah Nurnadia and Hisyam Adnan, both 30, were spotted at the Masjid Jamek. When approached, they said that they were at Armenian Street when they notice a group of people with purples balloons and flowers and out of curiosity, decided to join them as they headed to Masjid Jamek.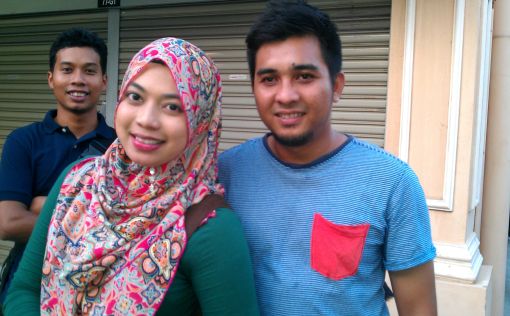 "We were also attracted to the placards some of these people are holding. They have messages of love and peace, so we decided to join them."
Chritina Chong, 53 and Beatrice Lam, 45 knew about this event through Facebook and decided to attend to 'promote peace'.
Said Christina, "This walk is a good way for all of us from different background to gather together to visit the different places of worship. It can promote understanding among each other."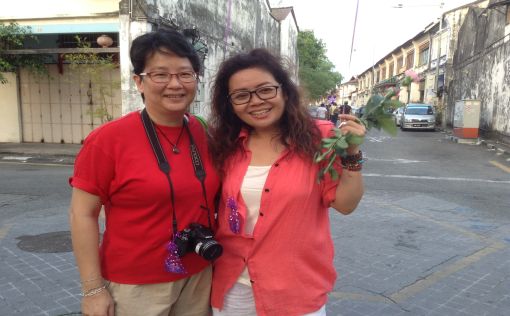 Rosie Sebastian, 48, who came with her friends, Zaitun, KC Lee and Susan Siew, informed that it was Zaitun, who persuaded her to attend.
"Zaitun invited me and I'm glad that I came. It was an interesting eye-opener walk for me."
"I feel good to be among all these people." Said Zaitun, "It made me feel very Malaysians. It reminds me of my childhood time, when we mix around with everyone without racial prejudices."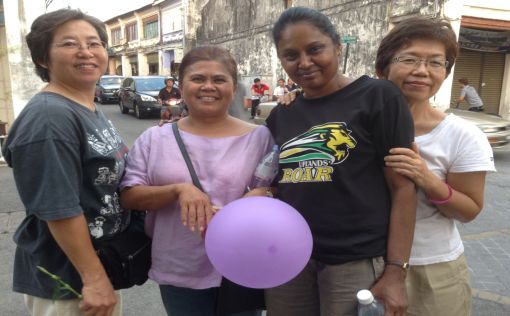 Azrul ended the event by thanking everyone for giving up their Sunday evening to join the walk and he hope that each and everyone will continue to play their part in healing the country.
"Everyone of us has a role to play in making sure that we preserve our harmonious way of life which celebrates our diversity and ensures that we are able to push back those who call for violence, aggression, hate and racism. Malaysia is what we make of it and the future is ours to decide how we want it to be. Silence means that we tolerate and allow for extremism to flourish. Our voices must be heard and the walk that day was one such way. We need to speak out."
A similar 'Walk in the park' will be held in Ipoh, Kota Kinabalu and Klang in time to come.