Pups hurt by hot water recovered, up for adoption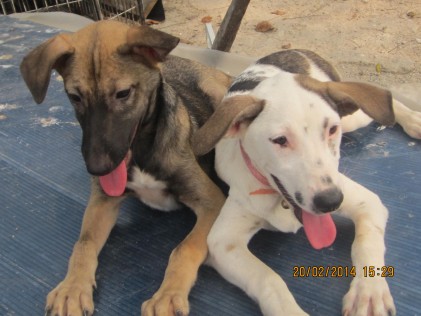 Two puppies, which suffered light injuries when an angry hawker threw hot water to chase them away, have recovered beautifully and will be up for adoption by Second Chance Animal Shelter this Sunday.
Second Chance President Ivy Liong said Charlene and Channel were only two months old and playing near the stall when the cruel hawker dumped hot water on them. A few young men found the two traumatized pups hiding under a box, took the pups for medical check-up before surrendering them to Second Chance two months ago.
Liong said the two pups have since healed, and are healthy and friendly. They will be up for adoption together with 15 other puppies at the adoption drive on 2 March at the IOI Mall in Puchong on the 2nd floor corridor next to Digital World from 11 a.m. to 6 p.m. There are also some 200 other dogs at the shelter at Old Klang Road looking for home and can be viewed by appointment.
"We are appalled by what the hawker did. We strongly urge the public not to turn away but to report such act of cruelty to the veterinary department. Nobody should be allowed to get away with animal abuse," Liong said.
Second Chance, formally known as Paws Mission, was set up in 2009 by a group of volunteers. Liong said the group believes in the philosophy of "Adopt, Don't buy; Neuter, Don't Multiply". Second Chance hopes to help raise awareness about these two principles of helping animals and pushing for animal welfare, she said.
"The plight of stray dogs is one of the most visible animal welfare issues in the world today. Many stray dogs in our country are abandoned pets and tens of thousands of dogs are caught and put to sleep each year," Liong said.
"We aim to provide education about responsible pet ownership: dog identification, vaccination and neutering means fewer animals will end up on the street. We hope to push for more effective and less cruel ways to manage the stray population in our country," she added.
Second Chance is building a permanent shelter in Hulu Langat as it will be evicted soon from Old Klang Road. Construction is in the final phase and donation is urgently needed to ensure the new shelter can be completed. Anyone interested to help, please call Tracy at 016-3323382, Ivy Liong at 019-2937217, Mr. Leong at 012 2269150 or email [email protected] or visit http://www.pawsmission.com. Donations in kinds such as rice, dog kibbles, canned food, Chrolox and towels are also welcome.