AirAsia bid farewell to long serving LCCT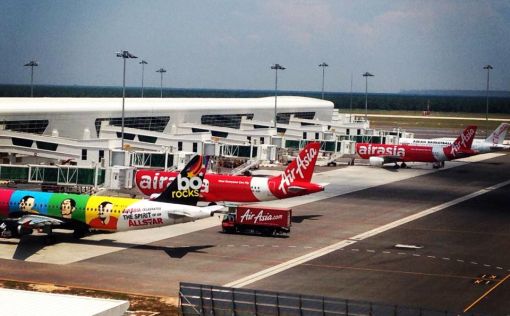 Airasia and AirAsia X bosses and staff had bid farewell to the Low Cost Carrier Terminal (LCCT) as they had shut down before shifting to KLIA2 today.
AirAsia Group chief executive officer (CEO) Tan Sri Tony Fernandes had tweeted on Thursday night with a photo of the now-empty check-in counters, saying, "From my desk at LCCT. Deserted. Built for 10 million expanded to 15 million but we did 20 million due to 3 year delay."
He next shared another photo, expressing his love for LCCT.
"I love it. With a bit of thought and investment, we could have stayed here. But everyone always wants to build. It's airlines that brings passengers tourists and jobs. Not airports. Onwards and upwards." said Fernandes through his official Twitter account, @tonyfernandes.
AirAsia Berhad CEO Aireen Omar also shared a photo on Instagram of AirAsia's final flight from LCCT bound for Kolkata.
"Last flight from LCCT. Flight to Calcutta. #thankyoulcct . You've been awesome," said Aireen via her Instagram account, aireenomar.
On her Twitter account @aireenomar, she tweeted "Waiting anxiously for first arrival of #AirAsia flight into klia2 frm Ho Chi Minh City. First batch of ramp vehicles arrived at klia2! Ready for first arrival at klia2 today".
Aireen also has expressed via Twitter what she would miss the most about the LCCT.
"Many asked what I'll miss most about LCCT. I said: simple, practical, fast, convenient, low cost. We had the best growth here. #thankyoulcct," said Aireen.
Posing with his director of operations Moses Devanayagam, AirAsiaX's CEO Azran Osman-Rani also tweeted the photo of them in their now empty offices on his official account, @azranosmanrani.
"This was where Moses n I started at AirAsia X in 2007. Now the team have packed up for KLIA2 move. #thankyoulcct," said Azran.
Besides the chiefs, AirAsia staff also bid farewell to the airport, like pilot Johan F. Khairuddin.
"My 1st flight on @AirAsia X from LCCT, was as a passenger. My last flight from LCCT, was as the pilot. #ThankYouLCCT," said Johan via his Twitter account.
Captain Azreen Ahmad Basiruddin posted a photo on Instagram of the new look of KLIA2 with the caption "goodbye LCCT & hello there KLIA2… #KLIA2".
The last AirAsia international flight out were Kolkata-bound AK-63 which left at 10.30pm, and AK 6446 which left for Kota Baru at 9.50pm on domestic duty. The last AirAsia X departure was D7 170, which left for Jeddah at 2.35am.
_________________________
All news posted on this website are written by Malaysians from all walks of life who are trained by Citizen Journalist Malaysia. If you are passionate about writing, photography or  video storytelling and would like to contribute your articles, photographs or videos of events that is happening in your community, please (CLICK HERE)
_________________________
For more updates, please like us on Facebook