UEM held motivational camp for students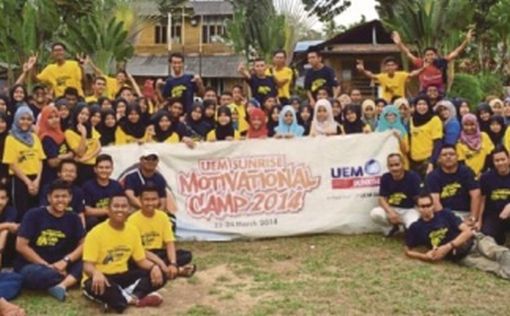 UEM Sunrise Berhad previously known as UEM Land Holdings Berhad held a motivational camp for Pintar secondary school students at Tiram Indah Village in Johor Bahru, Johor lately.
The camp had two phases this year with 120 participants in attendance.
The first one centers around 16 and 17 year old students while the second phase includes the same group of students plus the involvement of their parents.
The purpose for this camp is to motivate students to be holistic human beings and simulteneously boost their prospects and self-assurance.
It is also a stage in nuturing students on the significance of studies and its variety of physical and mental challenges.
The programme components has been prepared to hearten positve values while nuturing the importance of time organisation, team work, perseverance, determination and commitment.
Plus, it also teaches them to be responsible for the doings while respecting others, prioritising parents and teachers.
"Initially, when I was selected to attend this programme, I wanted to have fun and not take it seriously.", said Muhamad Nor Fitri Norizan 17, from SMK Gelang Patah.
He said the camp was very diverse from what he had aniticipated and made him realise the importance of self achieving.
"It was challenging yet fun and I made new freinds too," he added.
He also had the opportunity of being chosen to be the Penghulu (leader) for the male students which he depicted as a brilliant experience as it helped in constructing his leadership qualities.
"I am glad to be picked as one of the participants in this camp," said Nurul Nabila Huda Ahmad, 17, from SMK Gelang Patah.
UEM Sunrise Berhad senior general manager Nusajaya Mohd Nadzari Bachek said that the camp had given students the chance to involve themselves in physical activities, develop creative self-expression, competence, positive social communication and self achievements as part of groups as well.
"As a considerate and an accountable corporate civillian, UEM Sunrise are responsible not only to its employees, investors and customers but also to other communities where they function.
"Our corporate social accountability policy is focused on education and community bulding thru educational programmes like Pintar and other efforts," Mohd Nadzari added.
_________________________
All news posted on this website are written by Malaysians from all walks of life who are trained by Citizen Journalist Malaysia. If you are passionate about writing, photography or  video storytelling and would like to contribute your articles, photographs or videos of events that is happening in your community, please (CLICK HERE)
_________________________
For more updates, please like us on Facebook