Sungai Way New Village folk do their bit to improve cleanliness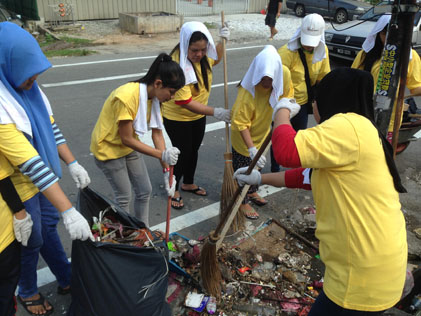 Some 300 volunteers showed their community pride by turning out in force to clean up their streets in SS9A, Sungai Way New Village, Petaling Jaya on May 3, 2014.
They included residents, individuals and employees of Starbucks, Western Digital and Globetronics located in the Sungai Way Free Industrial Zone who came together in support of "Inilah Tempatku" clean-up campaign aimed to foster environmental awareness and a clean community.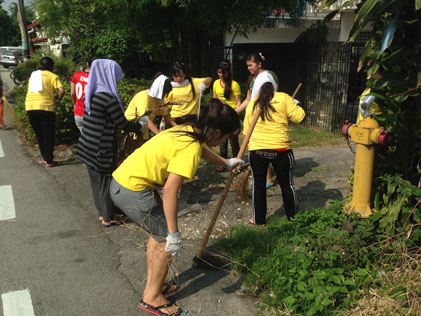 "We are very pleased with the overwhelming response from the community wanting to do their bit to clean up to help improve the local environment for all to enjoy," said Sungai Way Village Development and Security Committee (JKKK) chief Ding Eow Chai.
Assisted by Petaling Jaya City Council (MBPJ)'s environmental health department, the volunteers split up into 12 groups and given different areas and tasks to clean up.
Armed with brooms, disposable gloves, rubbish bags and basic tools, they swept the streets, removed illegal stickers, buntings and banners,  repainted road side kerbs and trimmed over-hang tree branches.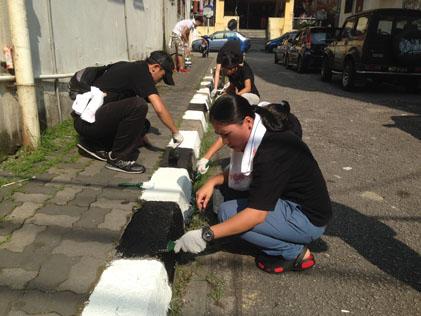 The gotong royong to help clean up the village was jointly organised by JKKK Sungai Way New Village, Petaling Jaya City Council (MBPJ), Petaling Jaya Utara MP Tony Pua, Kampung Tunku state assemblyman Lau Weng San and MBPJ councillor for Zone 20 Oon Chong Ling.
It was launched by Lau Weng San at the MBPJ Sungai Way Multipurpose Hall.
Lau said the mushrooming of illegal stickers, buntings and banners in Kampung Tunku constituency was a cause for concern as it was severely affecting the cleanliness of the areas.
He announced an incentive program for residents and registered voters of Kampung Tunku constituency who brought in such illegal banners to his service centre and will get rewarded with cash to be paid fifty cents for each banner measuring not more than 2 feet x 5 feet and two Ringgit for each banner measuring not more than 3 feet x 6 feet.
As for illegal garbage dumping, those who send photos of litterbugs to his email at [email protected] or SMS/whatsapp to 016-2765570 will be rewarded with RM100.00
The cash incentive campaign period is on now until December 31, 2014.
"The purpose of rewarding the people of Kampung Tunku in this cash reward is to empower the people in the process," said Lau.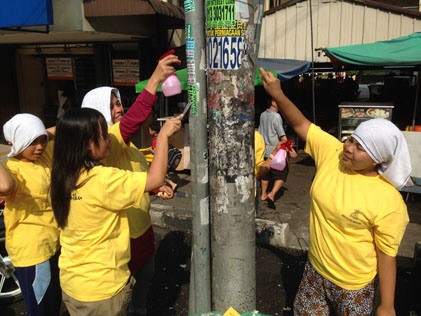 Councillor Oon Chong Ling, said: "The gotong royong activity has brought the residents of SS9A together towards fostering better neighbourly relationship and they get to know fellow participants closer as they walk around cleaning the streets and feeling a sense of pride living in the neighbourhood.
The gotong royong ended with a closing ceremony attended by Tony Pua who thanked everyone present for their community spirit.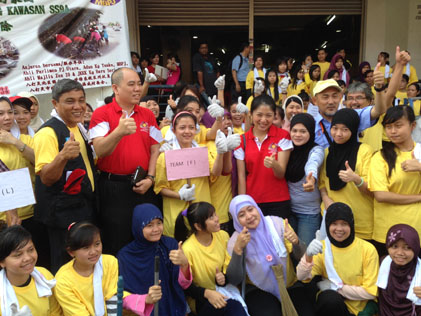 _________________________
All news posted on this website are written by Malaysians from all walks of life who are trained by Citizen Journalist Malaysia. If you are passionate about writing, photography or  video storytelling and would like to contribute your articles, photographs or videos of events that is happening in your community, please (CLICK HERE)
_________________________
For more updates, please like us on Facebook