Public display of rudeness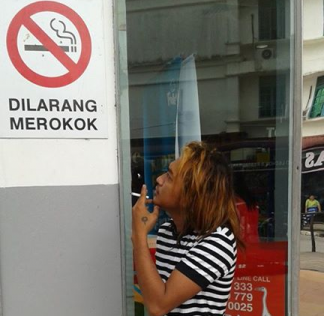 'Rules are meant to be broken' seems to be an unethical motto of a man who was caught in camera smoking at a smoke free zone.
The photo believed to be taken at a shopping mall in Bintulu pictures a man dressed in black and white stripes and jeans puffing cigarette right at the 'No Smoking' sign.
The photo appears to be uploaded by a foreigner who goes by the name of Ompunky Puthunedanyangtluwuk Mbahputrobongso in Facebook.
It was clear that the person in the photo doesn't obey the law and it was his intention to publicly display his disobedient of the Laws.
Action can be taken on him by the Ministry of Health if proven guilty.
________________________________
All news posted on this website are written by Malaysians from all walks of life who are trained by Citizen Journalist Malaysia. If you are passionate about writing, photography or  video storytelling and would like to contribute your articles, photographs or videos of events that is happening in your community, please (CLICK HERE)
________________________________
For more updates, please like us on Facebook