West Malaysia Green Cycling Group arrives in Johor Bahru
Johor Bahru:  The West Malaysia Green Cycling group comprising of 20 environmental-friendly activists cyclists including  five females arrived in Taman Molek, Johor Bahru at 4.30pm today from their last stopover in Simpang Rengam.
Johor Bahru is the group 31 stopover venue where the group will be staying overnight before proceeding to Pengerang, Kota Tinggi, the next day.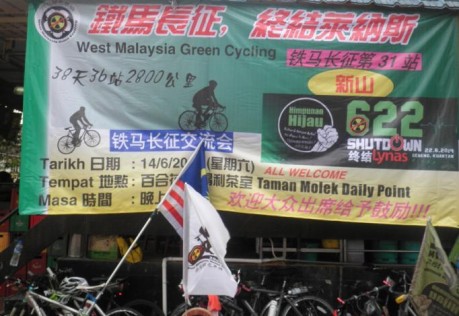 From Kota Tinggi, the group will be cycling to Mersing and thereon completing their 38-days cycling campaign in Kuantan on 21 June, 2014.
Group leader, George Fong, 42 told Citizen Journalists Malaysia that, in all their stopovers, the participants will distribute flyers and hold informational talk including video presentation to the local residents.
He explained that the group main objective is to create better awareness on the health hazards of toxic materials created by certain specific industries in the country.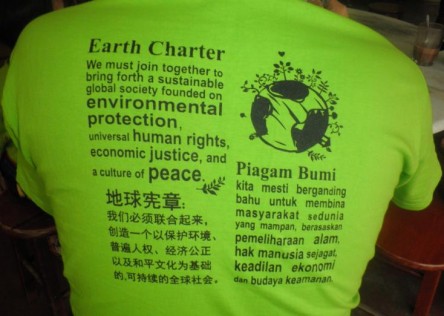 "However big a personal problem it is only a small matter but however small the problem faced by the country is a major and a serious issue", said George.
The West Malaysia Green Cycling group started their 38-days cycling campaign on 25 May, 2014 from Dataran Merdeka, Kuala Lumpur and had covered 31 cities and major towns from Kangar in the north to Johor Bahru in the south.
The daily cycling journey will start from 7.30am and ends at 5.00pm depending on the prevailing weather condition.
George said, to-date, the most challenging weather condition the group had encountered was in Kangar where the temperature soared up to 44 degree Celsius.
The group has been well received by the people in all their 31 stopovers and many came forward to gave the group moral support including sponsoring their food, accommodation and even bicycle repairs , he added.
He appeal and urged all environmental caring rakyat to come to Gebeng on 22 June, 2014 to express their support for the 622 Shut Down Lynas demonstration.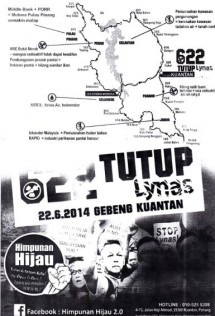 622 Shut Down Lynas demonstration is organised by Himpunan Hijau 2.0, a leading environmentalist NGO led by Wong Tuck.