No solution for 10 years and counting in Segambut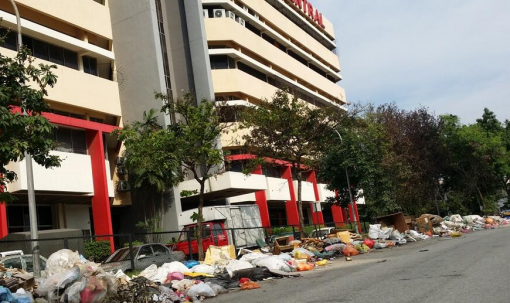 Business operators in Segambut could not bear to see the road that has been turned into an illegal dumpsite in the area.
Heaps of rubbish and industrial and commercial waste are piled up along Jalan Raja Arfah in Segambut, Kuala Lumpur.
The illegal dumpsite stretches over more than 110m along Jalan Raja Arfah to parts of Jalan Segambut Bawah.
The dumpsite has been there for more than 10 years and it mars the image of the area.
The business operators have hired a private contractor to collect the industrial waste at the cost of RM60 a month. The dumpsite posed health hazard to the workers too.
It's believed that irresponsible parties from Segambut and other areas are dumping their rubbish in the wee hours of the night because they do not hire a private contractor to collect their garbage.
There are attempts by the Solid Waste Management and Public Cleansing Corporation (PPSPPA) to collect the rubbish but their effort seem futile as people continue to dump the rubbish here even after it is cleared.
The lane beside Sentul Complex is filled with rubbish such as tyres, discarded plywood, food waste and industrial waste. Maggots can be seen among the garbage.
The people have urged the Kuala Lumpur City Hall (DBKL) to come up with a solution to the problem of illegal dumping as soon as possible.
________________________________
All news posted on this website are written by Malaysians from all walks of life who are trained by Citizen Journalist Malaysia. If you are passionate about writing, photography or  video storytelling and would like to contribute your articles, photographs or videos of events that is happening in your community, please (CLICK HERE)
________________________________
For more updates, please like us on Facebook