Over 30 houses at Pulau Gaya swept away by fire

About 2,000 people have been made homeless when fire destroyed more than 30 wooden houses in Kampung Pondo, a water village at Pulau Gaya, yesterday.
According to the reports of Borneo Post, the fire was believed to have started at around 12.30pm from one of the houses and spread quickly due to the presence of strong winds.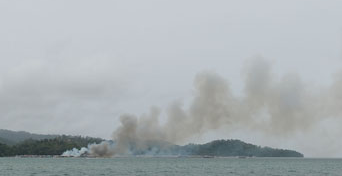 Thick black smoke could be seen billowing in the area of the village punctuated reportedly by several loud explosions believed to be from exploding gas cylinders.
No casualties were however reported in the incident.

Fire and Rescue Services Department public relation officer, Senior Assistant Superintendent Mohd Affendy Ramin, said the department received a distress call at 12.48pm and several firefighting teams were immediately deployed to the scene.
The rescuers deployed to the area in several boats and managed to put the fire under control by 1.37pm.
Mohd Affendy said the cause of the fire and total loss was still under investigation.
________________________________
All news posted on this website are written by Malaysians from all walks of life who are trained by Citizen Journalist Malaysia. If you are passionate about writing, photography or  video storytelling and would like to contribute your articles, photographs or videos of events that is happening in your community, please (CLICK HERE)
________________________________
For more updates, please like us on Facebook