The Tiger of Jelutong full biography launched in George Town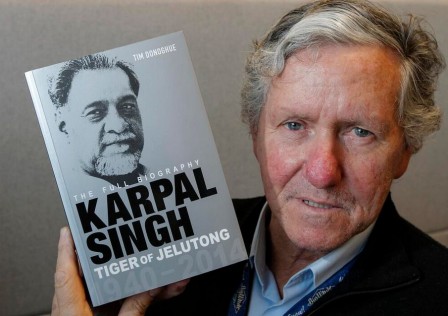 The untimely passing of the late Karpal Singh on April 17, 2014 has prompted New Zealand journalist, Tim Donoghue to release the second edition of his book "The Tiger of Jelutong".
The book, which is an autobiography has an extra 50 page content penned in after his death.
The book "The Tiger of Jelutong" was first launched in September 2013, covers the journey of late Karpal Singh, a lawyer and politician who was fondly known as "The Tiger of Jelutong".
The Penang Institute and Gerak Budaya Bookshop recently organised a launching cum forum at the Wawasan Open University on July 31.
The welcoming address was delivered by Bukit Mertajam MP Steven Sim and Think City chairperson Anwar Fazal.
In his speech, Steven recalled on how he met Karpal seven days before his untimely death. According to Sim, he was mesmerised and yet nervous, standing there alone in front of Karpal at the Parliament House.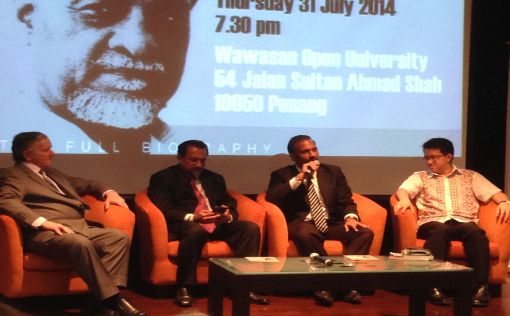 "I was very nervous and try to strike up a conversation. I told him I'm the MP for Bukit Mertajam. He nodded with his fatherly smile and whispered some encouragement to me. I was too nervous to even remember what he said," said Sim.
Sim also said that Karpal who is well known as fearless and iconic, he radiates the warmth of a kind mentor.
"It was a smile which simply said, I understand," added Sim, who also mentioned that Karpal's smile will forever be imprinted in his memory.
Meanwhile, Anwar Fazal in his speech said that Pasir Gudang MP Lim Kit Siang has once said the best way to remember people and events is through documentation.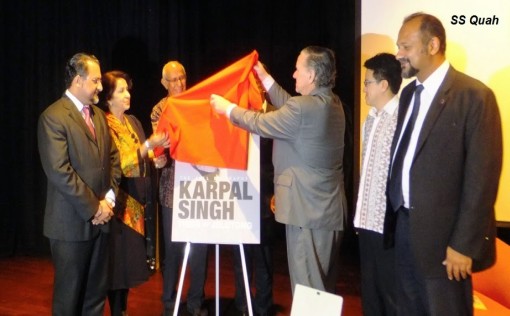 "I'm glad that Donaghue had documented the life of Karpal in a book," said Anwar.
Karpal's son and Dato' Keramat state assemblyperson Jagdeep Singh Deo said that the book was very well researched and written.
"Whether my father is a lawyer first or politician first, it doesn't matter. What's important is that he is a man with principles. He will be known as the man who stood up for the truth fearlessly," said Jagdeep.
Tim Donoghue in his speech tickled the audience when he jokingly said with Karpal Singh, the more trouble coming his way, the better.
According to Donoghue, Karpal looked to him more as a lawyer than a politician. He recalled a few of the cases Karpal Singh handled, particularly the one on how he defended a 13 year old boy from the gallows.
To Donoghue, his favourite story of Karpal was during the "Save Bukit Cina" campaign protest, where he was very astounded, marvelled at how Karpal hit a policeman at the witness box in court.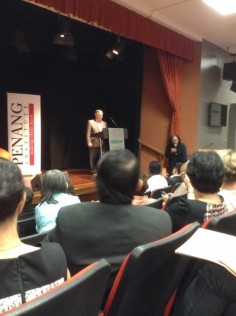 At the launching of the book, all the family members of Karpal Singh and the speakers were called up onto stage. Donoghue and Karpal's wife were given the honour to unveil the book.
A panel discussion followed after with Tim Donoghue, Liew Chin Tong, Ramkarpal Singh and Gobind Singh.
Ramkarpal spoke on how his late father never harbours ill feelings on anyone, even to those who castigated him. He said that the description of Karpal Singh as an institution rightly suited him.
Ramkarpal also said that despite him being so well known, some even refers him as legend, he was very humble all the time. The thousands of people who came to his wake and funeral testified to the fact about how he moved the people.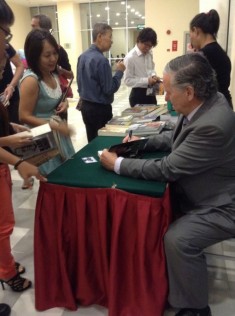 One of the forum attendees asked Donoghue if he faced any problem with Malaysian Special Branch while writing the book, to which he responded that he was lucky not to have any problems with the authorities.
Meanwhile, Liew Chin Tong also spoke on how DAP coping with the lose such a great man who was seen as the pillar of DAP.
________________________________
All news posted on this website are written by Malaysians from all walks of life who are trained by Citizen Journalist Malaysia. If you are passionate about writing, photography or  video storytelling and would like to contribute your articles, photographs or videos of events that is happening in your community, please (CLICK HERE)
________________________________
For more updates, please like us on Facebook