Flash mob boycotting McDonalds in support of Gaza
The Malaysian online community are joining in the campaign of boycott in response to the continued Israeli attacks on Gaza, which have killed more than 1800 people.
The campaign which has spread in the social media like wildfire has grown fiercer by the day.
Social media sites has been sharing pictures of a flash mob protest which was reportedly held at a McDonalds outlet in Seri Manjung, Perak.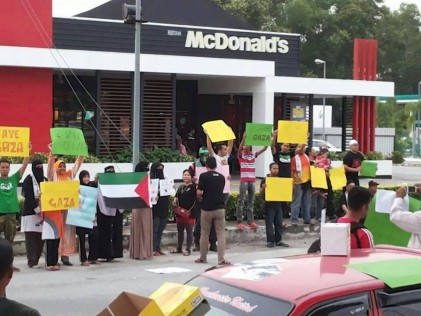 One of the admin of the Facebook page that posted this image has called for a similar boycott to be held at all McDonalds outlets throughout Malaysia.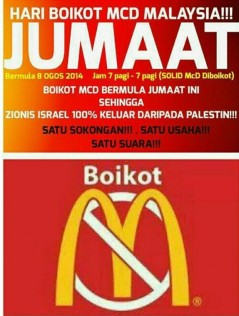 Another Facebook banner has invited all Malaysians to boycott McDonalds on Friday 8th August 2014. The post with the header "Malaysia's Boycotting McDonald Day" has gone viral receiving many shares and comments from netizens. There are no information of the campaign organizers as yet.
Below are a few comments from netizens :-
We can start by boycotting McDonalds. – Muhammad Ali

I'm not Muslim, but I'm on humanity side. I stopped everything that can help the war. Even my Muslim friends quit working from McD and so many companies just to show their support. – Calvin Singh

As Malaysians we are used to Israeli products. We aren't able to boycott 100% but 70% should be possible. It isn't hard just a little support will do. A lot of their products can be reduced. Anyways congrats to the flash mob at McD. – June Ed

Why are we using Facebook? It's Jewish. – Azizul Zahadi

I want to boycott Israeli products as much as I can. I love my Islam brothers and sisters in Palestine. – Faizul Shazreen
________________________________
All news posted on this website are written by Malaysians from all walks of life who are trained by Citizen Journalist Malaysia. If you are passionate about writing, photography or  video storytelling and would like to contribute your articles, photographs or videos of events that is happening in your community, please (CLICK HERE)
________________________________
For more updates, please like us on Facebook