Panic as waterspout sighted in Port Dickson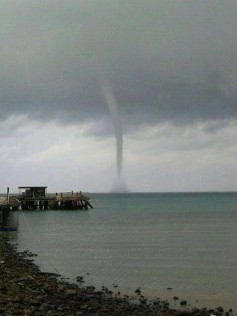 PORT DICKSON – Tourists and locals today at Port Dickson beach were given a mini heart attack when a waterspout phenomenon had taken place earlier this morning.
It is believed that the waterspout was formed around 10am at sea accompanied by heavy thunderstorms which hit the town 45 minutes after.
Here are some pictures that were uploaded in social media by onlookers. These pictures were captured in front of Port Dickson's police station.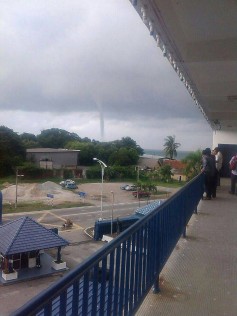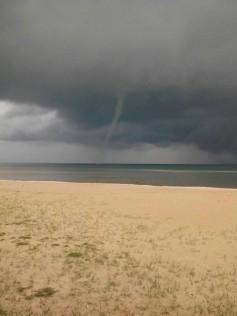 Many had thought a twister had struck leading them into thinking the end was near but apparently it had only been a waterspout of a short duration.
A concerned fellow netizen tried to calm the other by giving an explanation of the difference between a twister and a waterspout:
"A whirlwind happens when winds from different directions above clouds collide, forming a route of wind in a fixed direction. It was not a tornado just a waterspout" – Adian Syah Asmar.
________________________________
All news posted on this website are written by Malaysians from all walks of life who are trained by Citizen Journalist Malaysia. If you are passionate about writing, photography or  video storytelling and would like to contribute your articles, photographs or videos of events that is happening in your community, please (CLICK HERE)
________________________________
For more updates, please like us on Facebook