The Rooms makes its mark in Homedec KL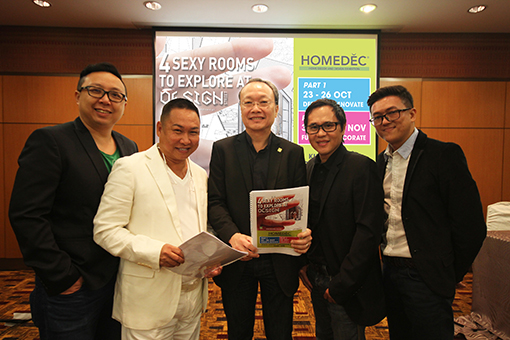 It's back with an attack. Malaysia's award-winning home and décor exhibition HOMEDEC will be held on the coming two consecutive weekends –HOMEDEC Part 1 (23-26 Oct) and Part 2 (30 Oct – 2 Nov). Watch out for twice the inspiration and triple the design and ideas to make your home better each year.
With over 1,600 exhibition booths and 500 local and international companies, the variety and inspiration are in generous quantities. Visitors who come to HOMEDEC can safely expect the unexpected, as HOMEDEC is committed to wowing its' visitors each time. "We want visitors to go home contented with what we have at HOMEDEC, whether products, rewards or most importantly, the knowledge and ideas in doing up the home. Right here, we have assembled the experts and industry people to help homeowners beautify and work on their homes," says C.I.S Network Sdn Bhd president (the organiser of HOMEDEC) Dato' Vincent Lim.
If you're in the process of renovating your home, bring your layout plan over and take advantage of the advice, the irresistible package prices and the life show units for you to create your best home yet. HOMEDEC is dedicated to making your renovation journey as easy, painless and fun as possible. For those awaiting the keys to their apartment, this is the chance to have a fun on-going lesson on refurbishing and decorating the home. See, how bare spaces can be transformed into stylish layouts.
The Rooms at Design Street
Great excitement is taking place as we speak. Taking centrestage this time is "The Rooms,' four magnificent life-sized rooms which have been given different themes and styles for the bedroom, living and dining. Visitors will get front row exposure to three designers and a fashion designer turned home designer as they showcase their ingenious interpretations of 'The Rooms at Design Street. Design Street is a permanent feature at all HOMEDEC shows, where each year, a new design presentation is shared with the public. At least 80% of products used to decorate The Rooms come from HOMEDEC exhibitors itself, so unabashed copying is most welcomed.
The Rooms is led by Ooi  Boon  Seong of PDI Design & Associates, winner of the MIID-REKA-HOMEDEC Award 2013 (Residential Category). He will design room number one, based on the theme 'Industrial Chic.' See the beauty of metal and recycled products and the edgy layout he produces. City-like, raw and relatable to the creative sorts. "The industrial chic look and feel style is also suitable for those who intend to incorporate a dance studio or working," says Ooi.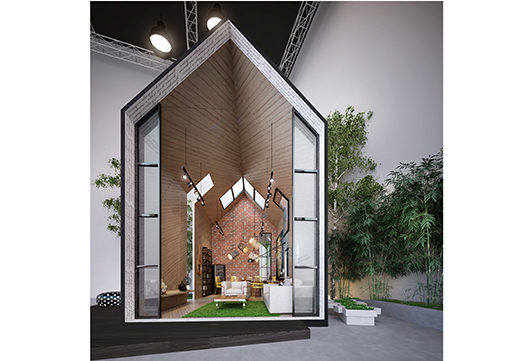 "The Room's at Design Street is a straightforward and easy way to provide different home design solutions and ideas for homeowners. We're providing home ideas by the country's leading designers so that Malaysians can take away the ideas and learn about designing spaces and incorporate them into their own home." said Dato' Vincent Lim.
Each room caters to a different segment of individuality so the varied and creative ways in which the designers play with space is truly a masterful presentation in itself.
Malaysia's renowned fashion designer turned home designer, Bill Keith will unveil a boudoir of rest, relax and calm. Rustic elements soothe the senses with tree barks, leaves and organic textures. His design of Tropical Indochine pampers the harried soul in true Malaysian style and provides the luxury of a resort to everyone.
Luxurious homes around the world adore the Modern Classic style, a design that evolves yet remains timeless. Demonstrating the latest and most perceptive interpretation of this style is Eddie Ng, the up-and-coming designer from Sunpizz Kitchen and Home.
Are you free spirited and in search of the meaning of life? Freedom, artistry and fusion find their way in the Bohemian way of life. Expressing it here is Astley Ng of Sky Creation Design who partakes in unconventional design and bold home concepts through his Boho Chic theme.
The main sponsors of The Rooms at Design Street include Megaman Electronic & Lighting (M) Sdn Bhd, Panasonic Malaysia Sdn Bhd, Fascina (Malaysia) Sdn Bhd, KC Landscape Service Sdn Bhd, TAK Products & Services Pte Ltd and Continental Aces Sdn Bhd.
HOMEDEC Part 1 from 23-26 Oct covers the "Design + Renovate" theme which features services and products for permanent fixtures for major renovation. Part 2 from 30 Oct – Nov 2 focuses on the "Furnish + Decorate" theme; everything to enhance the interior of a home after completing the major renovation works.
Visitors will also be inspired by award-winning projects from the exhibition of MIID-REKA 2014 Design Excellence Award, organised by the Malaysian Institute of Interior Designers (MIID).
For outstanding products in quality and design, visitors can look out for the HOMEDEC Quality and Good Design Award submissions by exhibitors.
Prizes, prizes, prizes
Want to drive home a car? Up for grabs in the HOMEDEC contest, is a brand new ISUZU D-Max 2.5L worth RM100,689 as well as a ISUZU D-MAX V-Cross 3.0L worth RM108,000. And just by coming over the to the ISUZU booth, you may just bring home RM1,000 cold hard cash.
At HOMEDEC, there are plenty of opportunities, such as the Facebook and the Sign Up & Win contest, to win daily goodies. Terms and conditions apply, more information at www.homedec.com.my.
So save those exhibition dates and participate in the most awaited home décor and design platform. It's a great day out with family and friends, a fun date and an educational time learning, all in one. Come on over, and join in the fun. Visit www.homedec.com.my for more details.