Washing car for a decent wage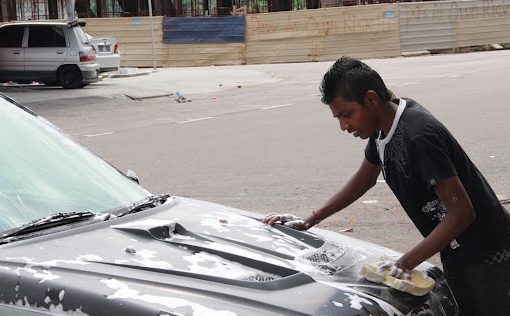 Not getting a decent job is not an excuse for being unemployed. While this may not be the case for most unemployed youth but at least 27 year old Dass, who sees things differently, took up a job as car washer in Johor Bahru.
Dass lost his bus spraying and painting contract two years ago to migrant workers, who come with a lower wage. Since then, he tended the car wash from morning to late evening earning a decent income.
He is daily waged and depends on the number of the cars he and his team can wash in a day. Out of the total collection, which ranges from RM50 to RM100, Dass takes home 70% and his assistants, two youths aged 17 and 19, takes home RM40 a person.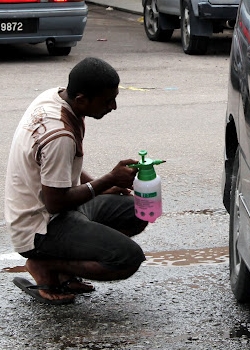 According to Dass, competition is getting tougher these days with more car wash centres mushrooming around the area and the number now are standing at 15. Making matters worst, the authorities keep picking on them.
"We used to get saman, road authorities accused us spoiling the road, some of them feel pity on us, but that is part and parcel of our business." said Dass.
Dass had to stop his education half way at the age of 16 due to financial problem.
He first joined car body work contractor at the age of 16, but after one year he did not learn anything. He quit the job and joined another contractor, who paid him less but offered EPF and Socso payments and most importantly taught him how to spray or paint cars and busses.
When asked about his future, Dass said: "I can't be doing this job forever, I am married and got 2 kids and groceries are very expensive nowadays."
He planned to open up a car painting shop, but needed RM25,000 capital  to start the business. Currently he has only RM5,000 in hand and that is the only savings he has.
According to Dass, to apply a loan, one must have business already in operation and the loan given is only for expansion of business.
Banks won't give us loan for a start up business at least not for me said Dass, when asked why he didn't borrow from micro loan facilities.
"So far I got nothing from anyone, no body bother about us and people like us (poor) have to come up ourselves" said a visibly disappointed Dass.