MARA IBS and Property Exhibition 2012 (Mipex 2012)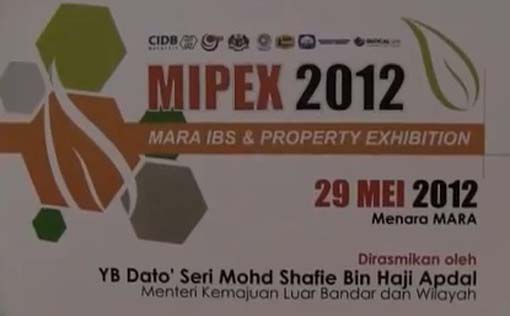 MARA IBS & Property Exhibition 2012 (Mipex 2012) is holding a four-day exhibition at Dewan Utama Menara Mara from May 29 to June 1, 2012.
The theme of the exhibition 'Affordable homes for all' is using the IBS system, which will be a first involving MARA. Mipex 2012 was officially opened by Rural and Regional Development Minister Mohd Shafie Apdal.
The event is held as a new initiative to build the strength of bumiputera in the IBS-contraction and property industry in Malaysia. Mipex 2012 is used as a platform to promote the use of IBS in the contraction industry.
MARA, through Glocal Link (M) Sdn Bhd, in line with the government's agenda, was committed to build affordable and quality homes for the middle and lower income group.
The price range of the affordable homes are from RM50,000 to RM80,000.
The exhibition saw the participation of 20 exhibitors and 600 seminar participants from various sectors, such as contractors, professionals, academicians, IBS suppliers and manufacturers from the whole country.  The exhibition is estimated to draw 5000 visitors.
The parties involved in the exhibition are:
i)    Glocal Link (M) Sdn Bhd
ii)   Gabungan Pengeluar dan Pengedar IBS
iii)  Global Globe (M) Sdn Bhd
iv)  Binaan Desajaya Sdn Bhd
v)   IBS Interlocking Brick Sdn Bhd
The Mipex 2012 Seminar was held along side the exhibition.  Seminars were given by agencies and active IBS companies on issues regarding the processing and management of IBS projects, IBS processing, technology and marketing, as well as new opportunities for the IBS industry.
The seminar was hosted by director of the IBS Centre from CIDB Noraini Bahri.
Video by:  Christine Leong, Citizen Journalists Malaysia