Kapar bridge is falling down, falling down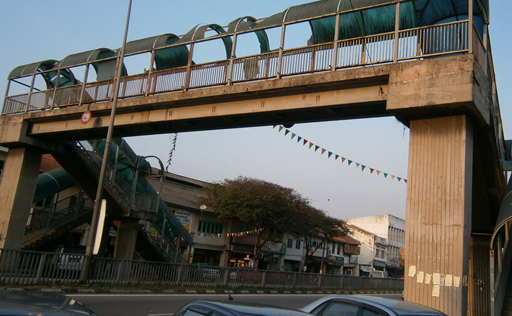 Despite the derelict state of pedestrian bridge on the main road of Jalan Kapar, Klang, the much-deserved repair works are nowhere to be seen.
Currently, the pedestrian bridge is the only way to cross the busy four-lane road, safely.
However, the pedestrians looks more comfortable, risking their lifes, jaywalking than using the bridge.
Most of the time the bridge, which is, located less than 500 meters from the Kapar police station, becomes a drug addict haunt.
The walkway at times is litered with broken bottles and almost all of the roofs are missing and the remaining ones, which is intact, already showing signs that it will give way anytime soon.
To make matters worst, the bridge also doesn't have proper lighting at night.
At the moment, the only purpose of the pedestrian bridge is to provide a make shift billboard for politicians from both sides of the divide to advertise their events.
Majlis Perbandaran Klang councillor, Winston Phua, when contacted said that he has contacted Public Works Department numerous times in regards to the danger posed by the bridge but no one has taken any action.
He also stressed that it is pointless for the people to vent their anger at Majlis Perbandaran Klang (MPK) because, when it comes to repair of roads and its structures, it comes under the purview of the Public Works Department (PWD).
"The PWD officers used to attend the councillors meeting at MPK and we used that avenue to highlight these issues but lately they have stopped coming for the meeting, most probably due to the brickbats they received," said Winston.
According to Winston, the sad thing is, people in general without realizing that issues like this comes directly under the purview of federal government, starts to blame state government for inefficiency.