Buskers will colour KL says Mayor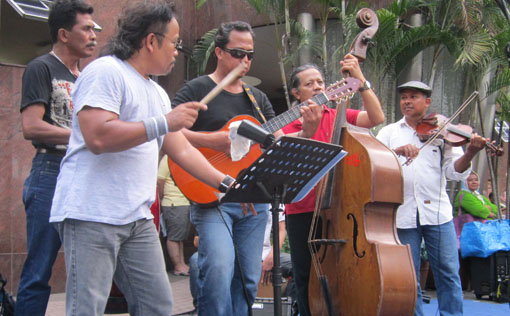 Buskers or sometimes known as street performers, have long plied the sidewalks of KL.
In Malay they are called 'seniman jalanan'.
There are various kinds of buskers. Some are mimes, some artists, but most are musicians.
Favourite busker haunts are Jalan Petaling, Bukit Bintang and Brickfields.
All this while, they have been ignored by City Hall in fact, many a time they have been arrested for being a public nuisance.
However recently, their struggle have been recognized and appreciated. In fact, more than that, they are now given permits and allowed to play at a few venues sanctioned by DBKL.
I was at an event recently at Jalan Tunku Abdul Rahman, next to the Coliseum theatre. What used to be a parking lot is now an outdoor theatre dedicated to showcasing the street arts of Kuala Lumpur.
It is called Lanai Budaya. The event was held to present busking permits and was officiated by the Mayor himself.
It started at five pm where the buskers of KL performed. Guitarists, drummers, percussionists, painters and even mime artists, gave the onlookers a free show. There was even free food for everyone.
At nine, the Mayor arrived.
He immediately went on stage and gave his speech. He acknowledged the importance of entertainment in a cosmopolitan city like KL.
He wanted the buskers to represent Malaysia to foreign tourists. He even declared that a few places like Bukit Bintang or Times Square, tourists hotspots, as a venue for buskers to perform. He intends to open up more places like Central Market for them.
Then, a group of buskers performed, to the delight of the crowd, and sang Broery Marantika's 'Senja Di Kuala Lumpur'.
There were dances and singing by cultural groups from KL. A famous singer Norhaniza Idris, was a guest artiste and sang a few numbers. The Mayor and Freddie Fernandez of Karyawan, then jammed on the guitar and the crowd cheered.
Finally, the permit giving session was held. This move delighted the buskers and most are enthusiastic and optimistic towards the future of KL as a busker's heaven.