Pet charity fun event at Central Park
 A pet charity event, entitled "Give Pets a Second Chance", will be held this coming Saturday, 19th October, at the Central Park, 1 Utama Shopping Centre, Bandar Utama. More than 20 dogs will be up for adoption and a host of activities including basic pet grooming and colouring contest have been planned for a fun day out at the park for animal lovers and their pets from 10 a.m. to 5 p.m.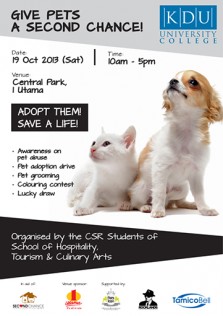 The charity event, organized by the Corporate Social Responsibility (CSR) students from the School of Hospitality, Tourism and Culinary Arts (SHTCA) at KDU University College, is in aid of the Second Chance animal society. It aims to raise much-needed funds to help the group feed its 350 dogs, as well as the construction of a new shelter in Hulu Langat.  Currently, Second Chance is based in Old Klang Road but the land where it is located has been earmarked for development and the shelter will be evicted soon.
An adoption drive will be held on Saturday, with more than 20 puppies and dogs looking for a home. "We hope to encourage the publicto adopt and save a life, rather than buying pets," said Tracy Lai, Second Chance coordinator.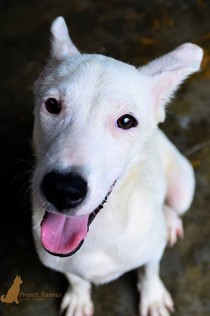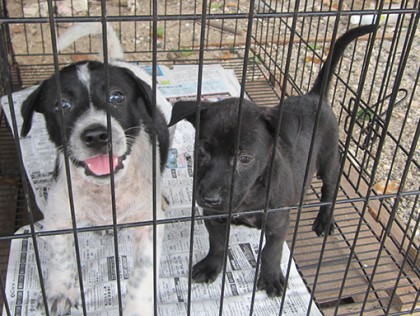 Ms. Kitty Lee, the head of SHTCA, said the CSR students chose this meaningful project as they felt strongly that the public need to be more aware of the increase in the number of strays and abandoned pets in the country.  "We hope the project will help organisations such as Second Chance to continue their work to give pets a second chance for a loving home," Lee said.
Want your pet to look like a star? Pets Academy will set up a grooming booth from 11.30 a.m. All proceeds from the grooming services will go to the Second Chance fund. There will also be a coloring contest for children and a lucky draw, so be sure not to miss this.
The event is supported by 1Utama, Pets Academy, Rocklands Entertainment and TamicoBell.
Second Chance, set up in 2009, now has some 350 dogs at its overcrowded shelter.  Under its sponsorship program, help ease the group's financial burden by sponsoring a dog for just RM30 or RM50 a month. For further details, call Tracy at 016-3323382, Ivy at 019-2937217 or Mr. Leong at 012-2269150. E-mail [email protected] or visit our blog  http://www.pawsmission.com . Donations in kinds such as rice, dog kibbles, canned food, Chrolox and towels are also welcome.
KDU University College, a member of the KDU Education Group, is a pioneer and leading provider in the field of private tertiary education since 1983.  The KDU Education Group is a fully integrated education services provider, from primary and secondary, both local and international, through to undergraduate and post-graduate levels and executive and professional development programmes. The KDU Education Group celebrates its 30th Anniversary this year, and is proud to have had 70,000 students since its inception, some of whom include corporate leaders, entrepreneurs and celebrities around the globe.
The KDU Education Group is the education arm of Paramount Corporation Berhad, a public company that is listed on the Main Market of Bursa Securities Malaysia Berhad and whose diversified business interests include property development and construction.
For more information about "Give Pets a Second Chance", please visit https://www.facebook.com/GivePetsAChance