Johor princess runs for family welfare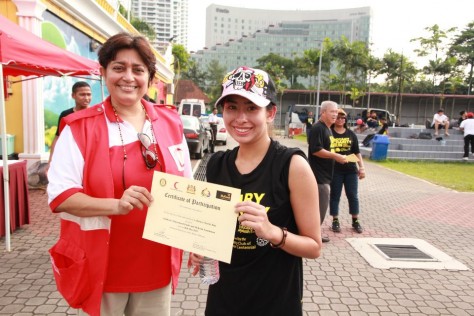 Tunku Aminah Maimunah Sultan Ibrahim, 26, the only daughter of Johor Sultan Ibrahim officiated the recent charity run organised by the Rotary Club of Johor Centennial.
Not only did the charming princess officiate the run, she ran 7km with almost 500 participants including 150 from various homes.
The charity run organised in aid of MyKasih Foundation and Children's Education Fund was held at Dataran Bandaraya.
Rotary Club of Johor Centennial president Wong Ban Seng said that the objectives of this charity run were to create public awareness of the various charitable causes and also to provide community service for the selected beneficiaries.
Also present was Johor Bahru MP Shahrir Abdul Samad and Adun Stulang Mok Chek Hou.  Shahrir later presented a mock cheque of RM5,000 which was received by MyKasih Foundation chief executive officer Jeffrey Perera.
MyKasih Foundation was launched in April 2009 with 25 families. Its welfare aid is managed and distributed with the use of MyKad technology.
More than 11,200 families in 120 communities all over Malaysia, now benefit from the MyKasih program.
The national committee for Community Services and the Malaysian Red Crescent were at the charity run too.