The Precious One (TPO) Welfare Society, a non-profit organisation based in Alor Setar, together with the Kedah and Perlis Leong Say Tong Association, jointly organised a charity run here today.
Crowds gathered as early as 7 am in front of Wisma Darul Aman to do their bit for charity, a 2 km run around the area.
President of TPO Welfare Society, Peggy Chan, said that there were more than a hundred participants  from all age groups, with the youngest being just 5 years old, to the oldest, a 75 year old man.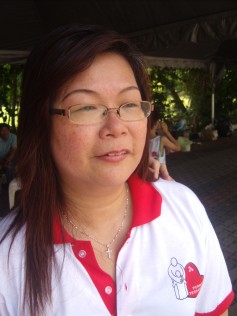 Participants for the run were divided into two categories, under-18 which ran for 1.1km. Meanwhile those who are 18 and above ran for 2km. Each participant were later presented with a certificate of participation.
In preparation for the run, the home also sold tickets worth RM7000 after launching the run last March. The public could purchase items sold at the mini fair, which ranged from mostly dried goods like rice, bee-hoon and mini hampers.
Peggy said that the items sold were donations that they have collected from sponsors since the launch.
Since 2009, this annual run, aims to collect funds for the running of the home.
Peggy further added that there were 2 charity events held annually.
"The aim of the run is to not burden anyone, but to create activities and raise funds for the home so that these unfortunate children can live better lives," said Peggy.
She went on to add, that the funds are needed for their medical and dental cost, school and tuition fees, uniforms and shoes, home building maintenance, and for transport.
The home not only cares for orphans but also for the handicapped, children from very poor families, as well as children who have been abandoned by their parents.
TPO Welfare Society aims to help provide refuge and shelter for under privileged children to help them rebuild their self-worth and to help them achieve their full potential.
Also present was Derga state assemblyman, Dr Cheah Soon Hai, who is also the advisor for TPO Welfare Society, and Kota Darul Aman state assemblyman, Lee Guan Aik.